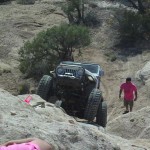 We set out with the Rat Pack to remember and honor a legend in the sport of four wheelin. He was family, a friend, a mentor, and a valued member of our community. It is obvious that he touched many people. It  really showed! We had the entrance of Chokecherry Canyon packed with rigs in honor of a great man. Harold Off meant a lot to me and a many other people in our area and around the world. Shortly after my dad passed away he and Cody in a way took me in. I found out real quick that he had a lot of knowledge. When I would be working on a rig I always thought I knew the problem. Harold would walk up and tell me that something else was actually the problem. It didn't take me long to figure out that most of the time he was correct. Eventually I would start to fix what he told me to and if that didn't fix the problem we would go for a ride and discuss the problem. This is where I got to problem solve with him and I will never forget it.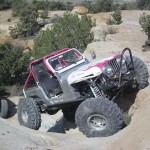 Harold four wheeled with an elite group of extreme wheelers who come second to none. This group keeps going and going. You would not believe what a family they are! They take care of each other and when it comes to the trail, no one is left behind. With this group you do have to be well equipped and have the means to finish the trail. Jim told me that in a full week of wheelin Steve was the only one who hadn't spilled over. Steve had a good story about some of his spills though. You know, no one is invincible but these guys come close. The rigs they drive make a statement and I saw that ridding passenger through town. These rigs will turn some heads.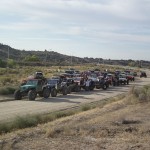 When we got started we were a little concerned. Due to the caliber of the trail, we thought some might not make it very far. After the Trail Head Marker was unveiled a lot of them trekked off to another trail. Once we were committed there was no turning back. You could see that we had a core group of extreme four wheelers. It was quite a trail with some awesome lines. It even included some of the old A.R.C.A competition climbs that many of you experienced in the old days of competition rock crawling. We started at the graffiti bowl and immediately dropped in. Right off the bat it was an incredibly challenging trail.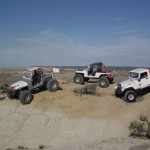 Fortunately there was only one lay over and one broken hub. I think it will become a very established trail. I have included some pictures for your liking!!!