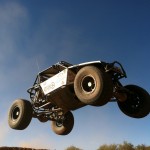 A good group of people came together to test and tune their rigs before the Glen Helen race on the 22nd. The idea came up when Allen and I were at Car Works to invite them to the Show and Swap. It seemed to come together well. We all had a great time. Darryl Dunlap brought out a sweet side by side. Randy and Cottin brought their Pro Class II truck out. Nick Nelson brought a nicely built Jimmy's car with the engine in the rear. Jeremy West brought out the new rig that they have worked so hard on. Joe put on a show, and had a killer cart-wheel roll!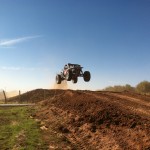 The day started out with my crew setting up for video and sound. We provided a DJ (Donavan Amedeus), and a couple of guys for back up on video. We tried to get Phil's stock F150 that had some bypasses installed running so we could put on a stock show. He ran his Cherokee Classic and showed how well it works. He also pushed a Ranger with a blown motor over the jumps! The set up went well! We put the crowd, the BBQ grille, and the DJ in the in the infield so that they were front and center for the action. Shortly after the cars and the crew started rolling in.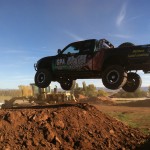 We jumped them and bumped them, we rolled them and cartwheeled them. We didn't stop until the sun went down! Nick got some good tuning in. He was working on dialing the rear bypasses in for the race. Jeremy seemed to be setup quite well. His rig landed on one wheel off of a jump while Randy was riding with him. Jeremy nailed the throttle upon the landing and pulled out of what could have been another cartwheel for the day. These guys are ready to get out the small bugs and head to the race. I hope they all come in over the top!!!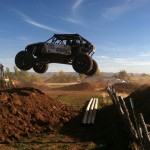 Joe grabbed me at one point and says "it's your turn to drive!".  Just to get to drive one of the cars that comes out of Jimmys Outback 4×4 is a great honor for me. I have been driving in the four wheel drive arena my whole life. To get to drive one of these rigs is a step above anything I have ever been in. I have driven Rock Ware and many others, but when it comes to Randy's crew… They put out multiple rigs that finish in the top ten at KOH (King of the Hammers) each year. When it comes to this race there are over 100 rigs in it and to come out with so many rigs at the top is a statement to say the least!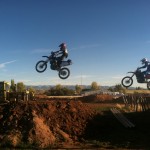 Everyone seemed to enjoy themselves. I know we did. Two of the guys had never seen anything like this. Needless to say they were impressed. Our DJ went for a ride and he was beside himself. I wouldn't mind them staying on board for events. Something rings through, what it is everyone has been thinking… Let's bring some events back to our area, and it's places like Car Works and Jimmy's Outback 4×4 who want to make this a reality. You hear people from out of the area saying "Wasn't there a race that happens here?" or "Oh this is where they have those rock crawling competitions.".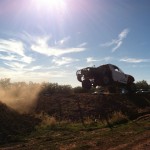 The day ended with a bang, Phil made a nice spicy Gumbo that tasted awesome. He didn't go lite on the meat or the potatoes, which made it nice and filling. Truly food for the soul! Unfortunately good things sometimes have to come to an end and we realize it's back to realityville. We will put this together again. Hopefully it will be a bigger event with an incentive to push the cars to the limit. I will keep you informed!!!
4x4tricks Rick