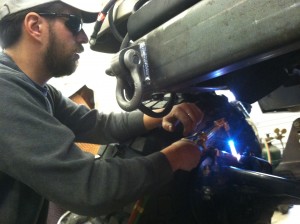 We met up with Jason a couple of Saturdays ago. Our purpose was to donate some hours to a Jeep that means a lot to all of us in the Four Corners. One of our guys is going to be out there racing in one of the largest off-road race events you can be part of anywhere! A guy who has wheeled with us, someone who has taken his rig to the limit, and a person who knows the point of no return. The 2012 Griffin King of the Hammers will fill a lake bed in Johnson Valley California during the first weeks of February. This year a stock class has been added. The 2012 Smittybuilt Everyman Challenge will be February 4th. As of this fall Jason was in 100%. He started a business called Four Corners 4×4 and has jobs lining up. Right now he is doing a very elaborate Jeep Wrangler JK. One of the additions will be a HEMI V8. Of coarse when you have a company that builds them why not race them. It's a great way to research products and brand your name. When it came to this race Jason had to find a rig, a lot of parts, a co-driver, and any good hands that could help along the way.           

      A hard choice had to be made. Even though Jason had built a machine that could handle all of the spills and thrills he still had to tear it down. The differentials and a few other parts were to go in the new rig, but a lot of it was sold as well. After some searching Jason found a two door wrangler unlimited. We went wheeling for the first time and you could see that it would only be a few weeks before the rig would go under major surgery. There was one person that would be needed for the race and that would be a co-driver. At first it seemed that there really wasn't anyone who could step up and pitch in. Some how Jason got Doug in the passenger seat. Doug opened some doors and that was all that Jason needed to get it all together.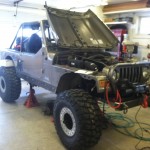 Josh was the first person to show and really put in time. He has been through the ringer when it comes to building rigs. It seems every time he has a great rig together he either breaks it down and builds it better or sells it. Welding is no problem for Josh at all! He is a certified welder. Let me tell you, his welds a very desirable. Fridays have been good for Josh to get away to Four Corners 4×4. Even while working a full time job, he still has the time to get up there and really put in some hours. Jason and Josh knocked out most of the cage and the suspension. They also took care of mounting things like the winch and the GPS unit. This is when Jason asked me what it would take to get Cody and I up to work on suspension, axles, and wiring.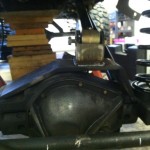 When Cody and I showed up to help there was still much to be done. One of the things that Jason had mentioned he needed was electrical work and lots of it. Cody is the man for that job. He is good and does a professional job. Everything he brings to the table is always the best quality. The vehicle had to be wired completely through a kill switch. The only two things that were to be directly wired to the battery was the I.R.C. Tracker and the winch. Everything else was re-routed to fit the rules of the race. Fresh air supply, radio communication, and the IRC tracker would be added when the rig got to the lake bed, but the wiring had to be ready. My job was to jump in where ever I could, so I jumped on axles. The rear was already torn down because the bearings needed to be pressed. Once we had the front end on a bench I immediately went to work. We tossed in some Yukon Super Joints in the front end and modified the brackets for the Clayton suspension kit when we went back together with it. After a very long day and into the A.M. hours of the next we had to take leave and drive back to Farmington. We would return the next Saturday, for there was a lot left that Cody had to do. I would be able to assist setting up suspension.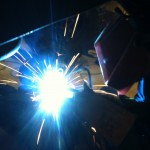 When we showed up the next weekend Josh and Jason had all of the rear suspension tacked and in place. The front was mostly welded out. Cast iron is tricky to weld it's porous and impure. As experienced as Josh is he made these welds very strong and very clean. There were a few questions left that Jason was facing like tracking, drag link, and upper control arm location (which could affect the driveline). After setting the upper control arm and seating the springs, I sat down with him and we started measuring and checking the symmetry between the trac-bar and drag link. We found the location for the trac bar frame mount and got it into place. Once all of the links were in place we set the jeep gently back on all fours for the first time.
      We immediately got on the rear. We welded out the brackets and checked for loose ends. We tightened up all of the suspension bolts and jam nuts so that we could flex out the rig and find points in the body that needed to be trimmed for clearance. There are a few loose ends left like giving the axle truss another location to tie into. The rear housing has an extra plain to bolt into. It is machined into the pinion side of the third member. This reinforcement will keep the truss from braking off due to the torque load it will be under. I am sure Jason will get it together after the first shakedown.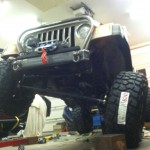 Once we had flexed it we looked around the vehicle. The focus was to see if anything was going to bottom out. Things like drive lines contacting control arms, or control arms contacting the frame could be detrimental to finishing a race like the Every Man Challenge.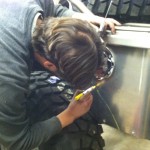 Some body trimming will be necessary. The jeep was flexed out enough to see contact points between the tires, fenders, and quarters. The drive lines and control arms turned out looking real good. This was about the last thing we did before leaving in the A.M. hours of the next day.
      So Cody and I have something like 30 hours into the project. Jason has countless hours into it. Josh spent his 21st birthday out on the City of Durango with Four Corners 4×4. He has spent almost every Friday and some Saturdays and Sundays on this project. When it comes to doing these projects we are thankful to have the friends that we do. Most people don't want to go back to work on their days off, but we motor-heads have to keep on cranking wrenches. We seek the adrenaline of rock crawling, racing, and even building these amazing machines. It is exhilarating to go from a torn down vehicle to a finished project like FC4x4's KOH rig. We are only days away from race day. Jason still has to get to the lake bed early to meet up with Bilstein. They will be working with Jason to get the perfect ride through valving and pressure. Good luck to Jason and Doug on their journey and the multiple races they will be part of.
4×4 Tricks Rick