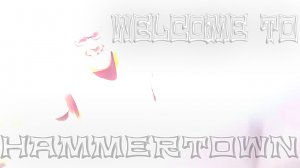 We were very excited to get out to Johnson Valley, California for the 2012 Griffin King of the Hammers. Finally we were going to see one of the epic races of the year. Our view into Hammer-town from the burbs was great, because each night you could look down onto a giant cloud of dust. This created a huge glow with all of the lights and all of the vehicles moving down each street. HammerTown only exists for a few weeks each year and when it is gone the lake bed is cleaner than before. The town was amazing it was staged and executed well. You could see crews in tint garages working hard to repair their rigs from the Last Chance Qualifying race. This year even if you were qualified you still had to run the LCQ coarse for position. Many of the vehicles that would start this race wouldn't be seeing the finish line.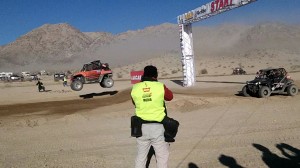 Thursday was the UTV race, so we watched it get under way. I couldn't blame the guys, they were as excited as i was just to get out and experience the recreational side of things. We caught up with Glen and Jim to get out and hammer the pedal to the medal. Glen led us up to Sledge Hammer. We didn't have another buggy with us so Glen and Jim watched from the side by side until we went out of site. It was an easier run, but it was cool to get out on the rocks. Jim and Glen went back down to see the King of the Motors race get under way. This was the first year that an endurance motorcycle race would be run. With this race and the Smitty Built Everyman challenge the population of the lake bed was a lot higher than years prior.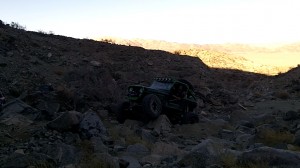 Later that Thursday we caught up with Jeff and a great group of enthusiasts. One of the guys was the driver who drove Dave Cole's (one of the founders of KOH) rig in the race last year. Awesome people and great trails equal a good time no matter what happens. You just have to get your rig out of the rocks and back to camp. We headed out for outer limits. This trail had a few more bumps and grinds in the way and was still one of the easier trails. Graham started taking the mental lines and did a good job of putting a "Hammer Stamp" on the hood. Sure enough we cracked the hood and put a hole in it. Later in the evening we had a front axle brake on a Toyota. It was a Birfield, but none the less it was Hammer-time!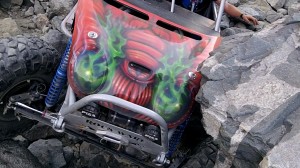 We tugged the Toyota up a ways only to run into another group of broken vehicles. We did our best to help everyone. The one broken Toyota went on over the top and sure enough another Toyota in our group broke a ring and pinion. As we were tugging back and forth on the Toyota, we heard a weird noise. When we stopped to look we found that we had a broken radius control arm. Of coarse this was only a few feet from hearing the noise. We knew… we got "Hammered"! The rear wheel had moved all the way forward. It took some tools and some quick hands. The cool thing was between Jeff and a couple of guys from Tennessee we were welded and fish platted in a matter of minutes. It is certainly important to have every tool you can on your rig. You never know when you will need it and if you have it you wont need it!
     After getting in from the trail at 10:30pm we stopped by to see Randy and the rest of the crew on Jimmy's block. We decided to get up at 5am to help with anything they needed. These guys come prepared. They were ready to rock and not roll. Nick's rig was running and all the pressures between shocks and tires were double checked. Loren's car was being pulled out just to grease the u-joints and do an all around check. Before we knew it they were pulling away to get into their starting positions.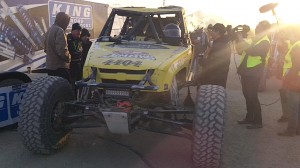 We walked down each row before they left Hammer-town for the Starting Line. Nick had his rear end in the air so that he could warm up the gears. Other competitors were checking fluids and pressures. It wasn't long before we had a giant parade of cars headed towards the beginning of the coarse. The green flag would soon fly and this race would be under way.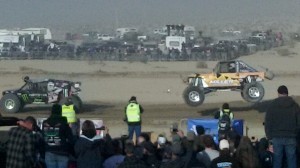 Two by two the cars marched off into the desert seeking the checkered flag. A very large amount of them would not finish. This is a race where everything has to be in tune checked a million times and checked again. The slightest thing like a tie rod end could take you out of the race completely. After around one hundred and sixty vehicles that started the race we headed for Chocolate thunder to wait for the first cars to come around. A lot of the cars didn't just take a walk through this trail. There were some difficulties like roll overs and broken parts that created a huge bottle neck. Some times you wonder should the driver have thrown his pride out the window and just winch? For some it may have helped, like the guys who spent thirty minutes at the first obstacle. phpaide.com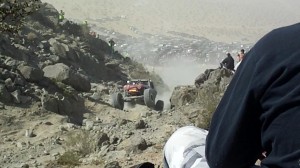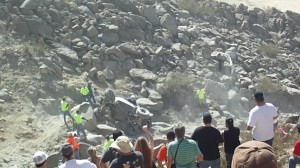 After we left that area we went back to the finish line to see what was going on in Hammer-Town. A lot of people were hanging around anticipating the first driver to cross the line. Many people were checking out the  jumbo-tron. This thing was a huge screen in the middle of the town. It was there so that if you didn't have a ride you could hangout and watch. Pretty cool!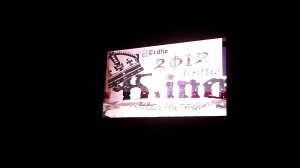 Eric Miller was the first person to cross the finish line. Easy Rick Mooneyham came in second, Shannon Cambell came in third, and Derek West came in over an hour later in fourth. I think one of the amazing finishes of the day was Loren Healey's finish. He started ninety-fourth and was the 8th car to cross the finish line giving him a fifth place finish! Congrats to everyone who raced, finished, and worked to get these drivers under way.
      After the race was over we headed back to camp. The guys were ready to crash after eating diner, but I had to get back in. I wanted to hang with some friends at Master Pull and some of my local buddies from Farmington. We ended up at Back Door shortly after 10pm. We were doing some product testing and some of the buggies wanted to give the obstacle a shot. After trying to break this L.E.D. light bar for thirty minutes or so the rigs started pulling up. Back Door is a challenge, but if you have the right line and don't let off you can make it look easy. For most the rock will eat their lunch! Talk about a well rounded trip for a few guys just looking to recreate and have fun.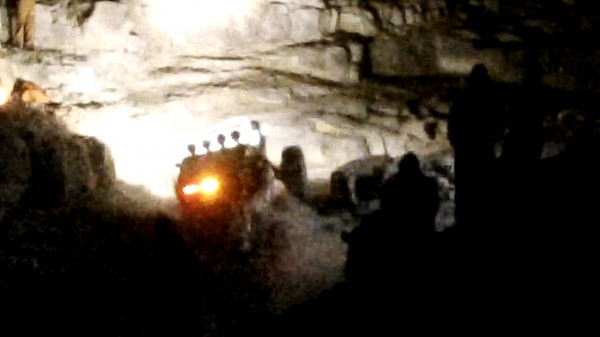 The whole purpose of this article was to show what it is like to go to this race as a regular recreational four wheeler. If you want to go and get some fun wheelin in and see an epic race… This is the week for you!!! Check out the 2013 King of the Hammers… I promise you wont be disappointed!
4x4tricks Rick
[tentblogger-youtube wbD6mqI0Oh4]